Today Amazon has refreshed their tablet lineup replacing the 8th generation Fire HD 8 which was launched back in 2018.
The new launch has two tablets which are identical apart from the plus model having 1GB more RAM at 3GB vs 2GB.
Price
Amazon has kept the base price the same with the Fire HD 8 launching at £89.99 and the Plus model being £109.99. The now-discontinued 2018 model had been as low as £55 on occasion.
The Fire HD 10 £149.99 while the Fire 7 is £49.99
Comparison between 2018 8th Generation Fire HD 8 & 9th Gen 2019 Fire HD 10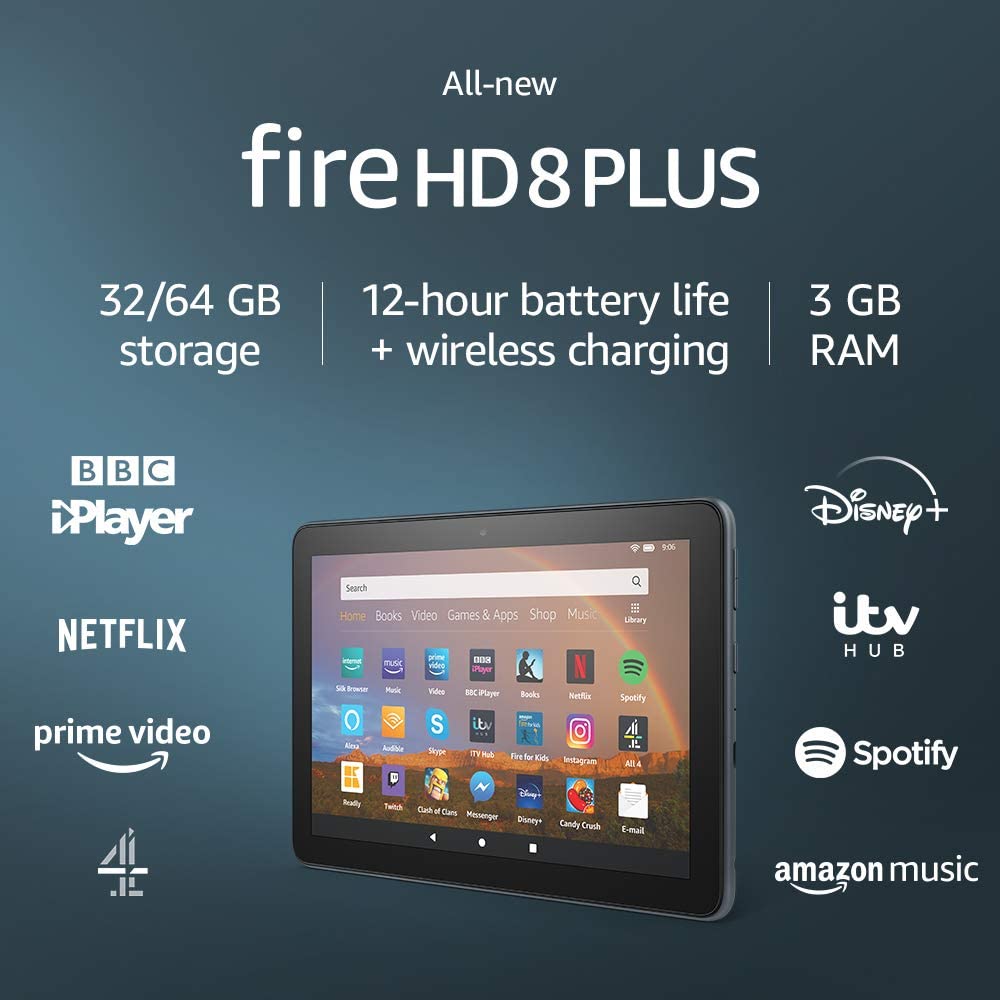 Amazon don't reveal detail specifics of things like the chipset but the new generation tablet has had a significant boost in specs compared to the 2018 Fire HD 8, but this still falls behind the Fire HD 10 which launched in 2019.
The CPU remains a quad-core, but the frequencies have been increased considerably from 1.3 GHz to 2.0 GHz, this should make the tablet much quicker when in use.
Ram has also been considerably increased, the older model had just 1.5GB which the standard model now has 2GB, and the Plus model has 3GB.
Storage has been doubled to 32GB and there is also a 64GB model available. Though it would probably be more cost-efficient to upgrade the storage via the included microSD slot.
The display specification remains the same with a 8" high-definition touchscreen running at 1280 x 800 resolution giving 189 ppi
The larger and more expensive Fire HD 10 has an 8-core CPU running at 2.0Ghz, but its RAM is only the same as the new Fire HD 8 with 2GB.
The Fire 7 is quite underpowered, which is to be expected for just £50. This has a Quad-Core CPU running at 1.3 GHz with 1 GB of RAM
Thankfully, Amazon have also upgraded the USB port to USB-C getting rid of the outdated microUSB.
The older models and the Fire HD 10 all claim to have Dolby Atmos, dual stereo speakers but there is no reference to this on the new models.
2020 Fire HD 8 vs 2018 Fire HD 8 vs 2019 Fire HD 10 vs 2019 Fire 7
|   | Fire HD 8 Plus 2020 (10th Gen) | Fire HD 8 2018 8th Generation | Fire HD 10 9th Gen /2019 |
| --- | --- | --- | --- |
| Display | 8″ HD 1280 x 800 (189 ppi) | 8″ HD 1280 x 800 (189 ppi) | 10.1″ 1920 x 1200 (224 ppi) |
| Size | 202 x 137 x 9.7 mm | 214 x 128 x 9.7 mm | 262 x 159 x 9.8 mm |
| Weight | 355 g. | 363 g | 504 g |
| CPU & RAM | Quad-core 2.0 GHz | Quad-Core 1.3 GHz | Octa-Core 2.0 GHz |
| RAM | 2GB standard – 3GB Plus model | 1.5 GB of RAM | 2GB |
| Storage | 32 GB (24.8 GB available to user) | 16GB | 32GB |
| Battery life | Up to 12 hours | 10 Hours | 12 hours |
| Charge time | 4 hours | 6 hours | 4 hours |
| Wi-Fi connectivity | Dual-band Wi-Fi | 802.11a, 802.11b, 802.11g or 802.11n | up to 802.11ac |
| Ports | USB-C (2.0) | USB 2.0 (micro-B connector) microSD | USB Type-C and microSD |
| Audio | 3.5 mm stereo jack | Dolby Atmos, dual stereo speakers | Dolby Atmos, dual stereo speakers |
| Sensors | Accelerometer, ambient light sensors. | Accelerometer, ambient light sensor | Accelerometer |
| Camera specs | 2 MP front- and rear | 2 MP front- and rear | 2 MP front- and rear |
| Bluetooth | 5.0 LE with support for A2DP | Bluetooth with support for A2DP | Bluetooth with support for A2DP |
Overview of the All-New Fire HD 8 and Fire HD 8 Plus
The All-New Fire HD 8 and Fire HD 8 Plus: Built for Entertainment
The all-new Fire HD 8 includes:
Beautiful display – Featuring a vibrant 8" 1280 x 800 high definition display with over one million pixels.
New faster processor – Now 30% faster with a 2.0 GHz quad-core processor and 2GB RAM to easily multi-task when watching movies, playing games and browsing the web.
Now even more storage – With options for 32GB or 64GB of internal storage and support for up to 1TB of expandable storage via microSD. Plus, enjoy free unlimited cloud storage for all Amazon content and photos taken with Fire tablets.
New longer battery life – Up to 12 hours of mixed-use battery life for browsing the web, watching videos, listening to music, and more.
New easier charging – Comes with USB-C for easy charging in less than 5 hours.
Introducing Game Mode – A distraction-free, optimised gaming experience that lets you focus on your game without interference from notifications.
Wide selection of content – Access to millions of movies, TV shows, songs, Kindle eBooks, magazines, apps, and games. Watch downloaded videos anywhere with Prime Video, Disney+, or Netflix subscriptions. Discover content that keeps you and your family entertained, connected, and informed on the #AtHome destination on Fire Tablets.
Stay connected – Download an app, such as Zoom, or ask Alexa to make a video call, to keep in touch with family and friends using your Fire HD 8.
Always-ready, hands-free Alexa – When connected to Wi-Fi, simply ask Alexa to Drop In on a friend or family member, play a song, start an Audible book, launch a trivia game, find your favourite movies, show your calendar, and more—using only your voice. Fire HD 8 is designed to protect your privacy. To learn more, visit: www.amazon.co.uk/alexaprivacy.
Amazon-exclusive features – Enjoy customer favourites like For You, X-Ray, Family Library, Blue Shade, and more.
For only £20 more, the new Fire HD 8 Plus adds:
Fast and responsive performance – With 3 GB RAM, 50% more RAM than the Fire HD 8, and a 2.0GHz quad-core processor, Fire HD 8 Plus delivers a smooth experience whether you're browsing the web, playing a game or watching your favourite show.
Hassle-free wireless charging – When bundled with a compatible wireless charging dock, seamlessly transition Fire HD 8 Plus from a portable tablet experience to a countertop smart display with hands-free Alexa access in Show Mode.
Faster in-box adapter – Includes a 9W in-box adapter that charges your tablet in less than four hours.
Three months of Kindle Unlimited – As a special introductory offer, Fire HD 8 Plus customers will get three months of Kindle Unlimited included with their tablet purchase. After three months, the Kindle Unlimited membership renews at the regular price of just £7.99 per month.
Last Updated on
Last update on 2020-05-13 / Affiliate links / Images from Amazon Product Advertising API